New Caremark Maintenance Choice Benefit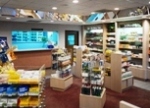 Effective February 1, 2013, if you go to a Caremark Pharmacy, you have the option to participate in the Maintenance Choice Benefit. This benefit gives you a lower price for a 90-day supply of a maintenance drug. You can also order your 90-day supply through Caremark's mail order service.
You will still be responsible to pay for your medications purchased at a participating CVS Pharmacy or ordered through the mail order service. Remember to submit a copy of your paid receipt for reimbursement.